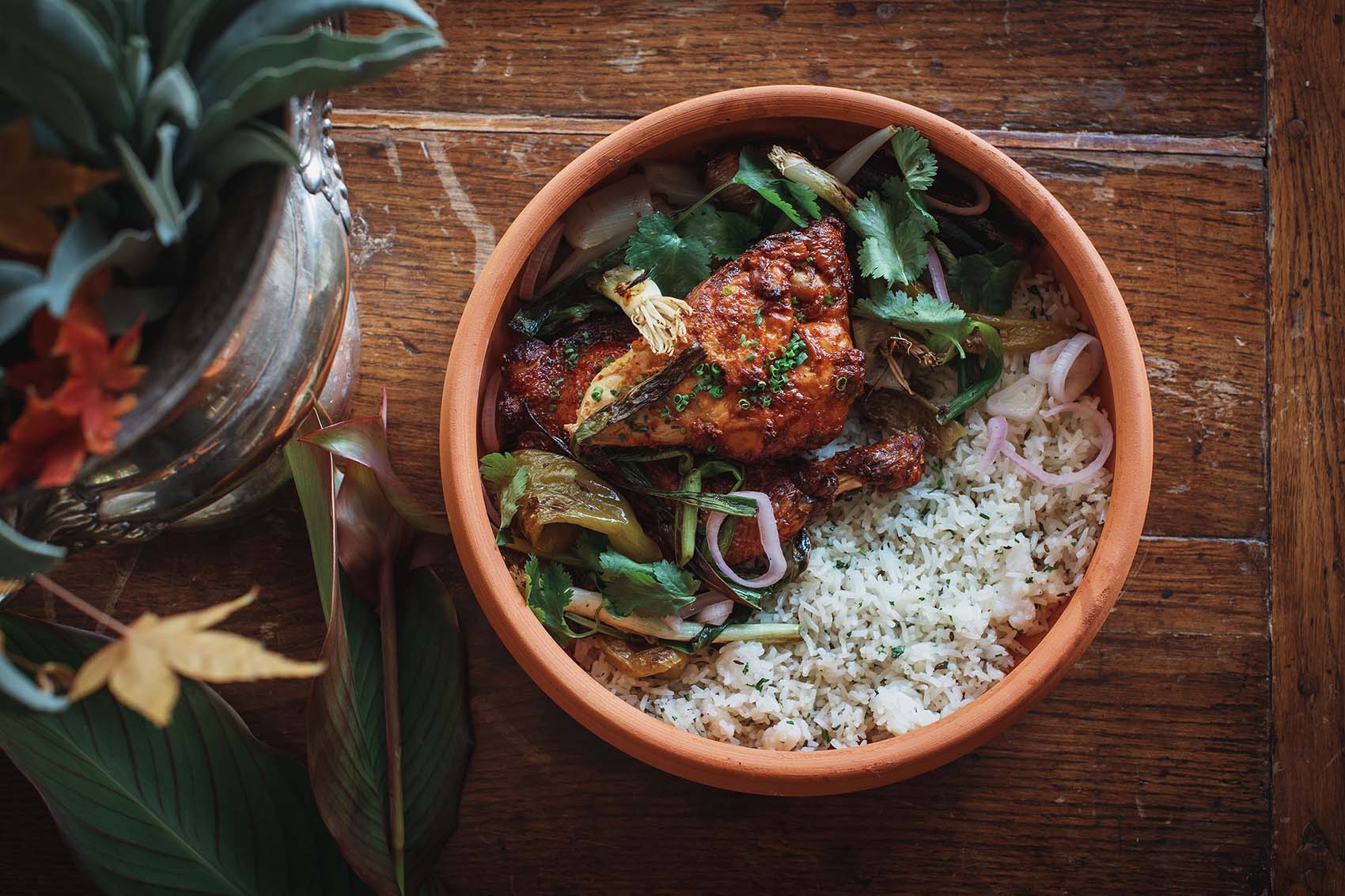 Dinner
Finger Food
NAAN – tandoori oven bread, garlic herb butter 9
COCONUT CHICKPEA CURRY av – flaky buttery paratha 12
CHICKPEA FRITTERS v – pressed & fried chickpea, sweet & sour tamarind sauce 8
CRISPY WEISER POTATOES av – garlic aioli, masala spice, fried white sage 8
ALOO PURI av – potato masala, fried naan bread 12
Small Plates
DUNCAN'S SPICY PICKLES v – seasonal local vegetables 9
CRUDO – ikejime rock cod, hibiscus, winter citrus, burnt chili peppers 18
LETTUCES v – red gems, sesame seeds, honey soy chili dressing 12
OJAI ROOTS CITRUS v – orange, grapefruit, tangerine, shallots, lemon verbena 17
BEETS & GINGER av – charcoal roasted beets, pickled ginger, mustard greens, coriander whipped yogurt, smoked red oil 15
RIO GOZO FARMS KABOCHA CURRY SOUP v – charred onions, fried leeks, garlic 21
Rangoon 19 St. Wooden Skewers
MEAT
Organic Chicken Tikka
(breast 4, thighs 4, meatballs 3.5, hearts 1.5, gizzards 1.5)
Watkin's Beef Satay 4
VEGETABLE
Chris' Carp vegetables and 50/50 farms sweet peppers v 4
Burma Classics
TEA LEAF SALAD v – fermented tea leaves, napa cabbage, red gems, Tutti Frutti tomatoes, sesame seeds, peanuts, fried shallots, fried garlic 18
BIRIYANI – yogurt marinated ground lamb cooked in spiced basmati rice, cashews, Kashmiri, cinnamon, cloves, cardamom, cumin, shallots, garlic, ginger, raisins, puff pastry 26
Sides
PARATHA – 5
flaky buttery bread
LENTILS av – 6
spicy ghee
KODA FARMS RICE v – 4.5
steamed jasmine rice
Mains
OMAR'S OYSTER MUSHROOMS v – spinach, swiss chard, ginger, garlic confit 16
GRASS-FED BEEF MASALA – braised chuck eye roll beef, potatoes, golden raisins, jasmine rice 22
MOTLEY CREW QUAIL – mushrooms, green garlic, spicy persimmon chutney 26
DYLAN'S LAMB – Coleman spigarello, green cashew chutney, paratha 38
FLANNERY FLAT IRON – slow braised cabbage, broken masala butter sauce 47
ORGANIC HALF TANDOORI CHICKEN – fermented peppers, pickled shallots, green onions, rice 42
Dessert
PASSION FRUIT LASSI PIE gf – Rincon Tropics passion fruit, gingersnap crust, lime zest 11
COCONUT CREME BRULEE gf, v – 50/50 Farms lemongrass and lemon verbena, toasted coconut, See Canyon quince & pear 10
CHOCOLATE COCONUT MERINGUE TART – Tehachapi Grain Project Sonora wheat crust, salted caramel, coconut sugar meringue 10
KULFI gf – Santa Barbara pistachios, rose geranium, cardamom 9
After Dinner Drinks
COFFEE
(regular or decaf, all made with locally roasted Bonito coffee beans and organic dairy)
HOT TEA MENU
(all herb teas are made from locally sourced fresh herbs, and other teas sourced by Magic Hour)
HERBAL (CAFFEINE FREE)
50/50 Farms (thyme, white sage) 3
BDs Chamomile 3
50/50 Farms (mint, lemon, verbena) 3
Magic Hour Queen of the South 4
BLACK (HEAVY CAFFEINE)
Organic Puerh 4
Organic Flower Dutchess 4
Organic Earl Greater Grey 4
OOLONG (MEDIUM CAFFEINE)
GREEN (MEDIUM CAFFEINE)
Organic Dragon Phoenix Jasmine Pearl 4

AFTER DINNER BOOZY DRINKS
Christian's Coquito (vegan option) 16
Spiked Pour Over 12
DESSERT WINES & DIGESTIVES
Niepoort Ruby Port 12
Barbadillo 12 year Cuco Olorosso Sherry 21
Barbadillo 12 year Principe Amontillado Sherry late harvest riesling 22
Amaro Averna 10
Fernet Branca 10
Angeleno 10
Cynar 10
Braulio 10
For a full list of spirits please ask to see our cocktail list.
Drinks
Cocktails
Garibaldi – Campari, lemon oleo, Ojai Roots tangerine 14
Cosmopolitan – vodka, 50/50 Farms lemongrass, hibiscus, fresh lime 12
Negroni – Wilder Gin, Carpano Antica, Bruto Americano 15
Pegu Club – Future Gin, Ojai Roots tangerine, fresh lime, Angostura bitters, Dutchess orange bitters 16
Penicillin – Bank Note Scotch, 50/50 Farms honey, fresh lemon, fresh ginger 12
Smokeshow – mezcal, Amaro Angeleno, quince, lemon 15
Rookie of the Year – Oaxacan pot still rum, persimmon, fresh lemon, 50/50 Farms sage 12
Lucky Devil – tequila, Thai chili, fresh lime, orange curaçao, housemade chili rim 13
An Old Fashioned Date – bourbon, date, coconut palm sugar, Britt's banana bitters 14
Vesper – Future Gin, vodka, Amaro Angeleno 16
Non-alcoholic Cocktails
Shrub & Club 8
Quince & Geranium Fizz 8
Dessert Cocktails
Christian's Coquito av – rum, Magic Hour tea, cinnamon, coconut condensed milk, cinnamon cookie 16
Brandy Alexander – brandy, cream, nutmeg 15
Wines
Wine by the Glass
BUBBLES
2020 Meinklang Rosé, Austria 'Prosa' 12
2019 Cremant de Bourgogne, Montchovet France 19
NV Champagne, P.Gimonnet France 'Blanc de Blancs' 30
WHITE & ROSÉ
2019 Muscadet, Metaireau 'Sèvre et Maine', France 12
2020 Vinho Verde, Anselmo Mendes 'Escolha', Portugal 9
2020 Grüner Veltliner, Nigl 'Freiheit', Austria 13
2020 Riesling, Kruger Rumpf 'Dry', Germany 12
2019 Sancerre, Domaine du Nozay, France 19
2020 Meinklang White (skin contact), Austria 14
2020 Sauvignon Blanc, Dragonette, Santa Barbara 14
2019 Chenin Blanc, Lieu Dit, Santa Ynez Valley 14
2019 Chardonnay, Sandhi, Central Coast 15
2020 Rosé, Fakin, Croatia 14
Red
2019 Schiava, Niklas, Alto Adige, Italy, 12
2019 Fleurie, 'Domaine des Marrans', France 14
2019 Dolcetto, Aldo Marenco 'Dogliani', Italy 13
2017 Grenache, A Tribute to Grace, Santa Barbara 17
2019 Cabernet Franc, 'Les Terres Blanches', France 16
2019 Cab Sauv/Cab Franc, Genuine Risk, Central Coast 16
2016 Syrah, Ojai Vineyard 'Duvarita', Santa Barbara 19
Local Beer
ON TAP
Ventura Coast Brew Co., Beachscape Pilsner, Ventura 9 (16oz/5.6%)
MadeWest, Standard Blonde, Ventura 8 (16oz/5.5%)
Transmission, Dyna IPA, Ventura 9 ( 16oz / 7.0%)
Ojai Valley Brewery, J.F.B. Lager Ojai 11 (16oz/5.0%)
CANS
Beachwood, Hayabusa Lager, Long Beach 8
Institution, Mosaic Pale Ale, Camarillo 10
Tarantula Hill, IPA, Thousand Oaks 11
Alesmith Speedway Stout, San Diego 10
Topa Topa, Spectro Hazy IPA, Ventura 8
Scar of the Sea, Newtown Pippin Cider, Central Coast 17
Golden Road, Mango Cart, NA Los Angeles 7
CIDER
Scar of the Sea, Cider, Central Coast 17 (375ml/8.0%)
DIETARY CODE:
v = vegetarian
av = available vegetarian
vq = available vegan
gf = gluten-free
A 3% charge is added by the restaurant to all checks to help offer fully covered healthcare to our employees. Please let us know if you have questions. Thanks for supporting a healthier staff!